Mayor's Grand River Cleanup – 2019
September 14, 2019 @ 9:00 am

-

1:00 pm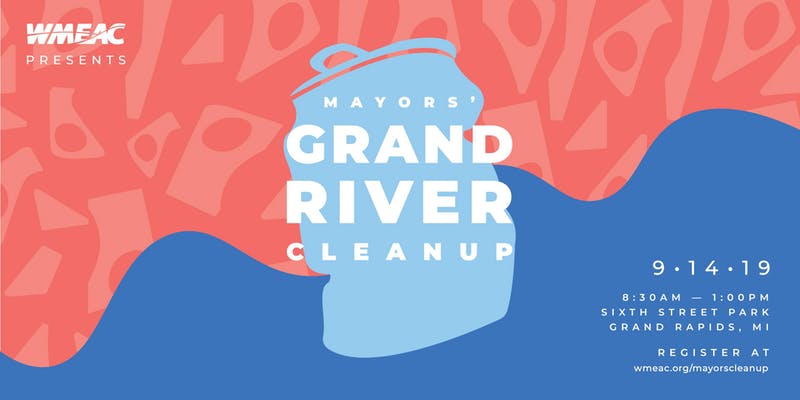 WMEAC is proud to host the 16th Annual Mayor's Grand River Cleanup on September 14, 2019 from 9:00am-1:00pm at 6th Street Park in Grand Rapids, MI. There will be a light refreshments before the event and a light lunch after with a beverage garden (must be 21+, ID required) supplied by Founders Brewery and Cascade Blonde.
Together our Small Acts will have a Grand Impact!
Why do we clean the river? The Grand River is a vital part of the West Michigan community. We fish, play, and celebrate the Grand River throughout the year, but it only takes 15-30 minutes for trash on our streets and around storm drains to find its way to the Grand River. Pollution in rivers harms plants, fish, and wildlife and negatively impacts drinking water quality, scenic beauty, and recreational value. The Grand River empties into Lake Michigan, where we get our drinking water. The waste that is removed at the 16th Annual Mayors' Grand River Cleanup is a small act that has a grand impact on our community.
Event Schedule (subject to change):
8:30am-9:00am:   Volunteer Check-in
9:00am-9:15am:    Mayors' Welcome
9:15am- 9:30am:   Volunteers board buses
9:30am-10:00am:  Transportation to Sites
10:00am-11:00am:  Clean the Grand River!
11:00am-11:30am:  Travel back to 6th Street Park
11:30am-1:00pm:    Lunch, live music, and a beverage garden from Founders Brewery and Cascade Blonde for volunteers over 21 years of age (ID required).