CONTACT US VIA EMAIL

Schrems West Michigan Trout Unlimited wants to hear from you, and there are two ways to do it.
1. You can can contact a Board member directly.
2. You can can fill out the form below and we will get your message to the correct people.
SWMTU POSTAL ADDRESS
Schrems West Michigan Trout Unlimited
P.O. Box 230094
Grand Rapids, MI 49523
ADDRESS CHANGES
If you would like to change your address, the best place to start is with the national Trout Unlimited organization. They maintain the database that we use to get your address.
It is always important to ensure TU has the most current information on file for you. This prevents you from missing out on member benefits such as the quarterly Trout magazine and the Annual Calendar. It also allows your local chapter — SWMTU — to be able to contact you as well for chapter meetings, outings and projects.
If you are not getting your magazine in the mail, please check with national TU first. Members can change/update their contact information anytime online. This includes name, address, phone number, and email address.
If you are not getting emails from Schrems West Michigan Trout Unlimited, email us and we will add you.
LINK TO SWMTU.ORG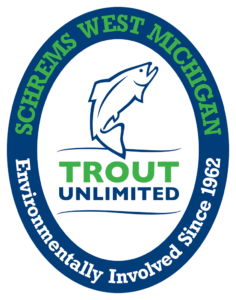 We encourage members and supporters of SWMTU to link to https://swmtu.org. If you have a web site, feel free to copy and save our logo. You can click on the logo to see a bigger version. (Please be sure to save the graphic on your server; do not link directly to the graphic on swmtu.org.)