Dear Schrems West Michigan Trout Unlimited Supporters,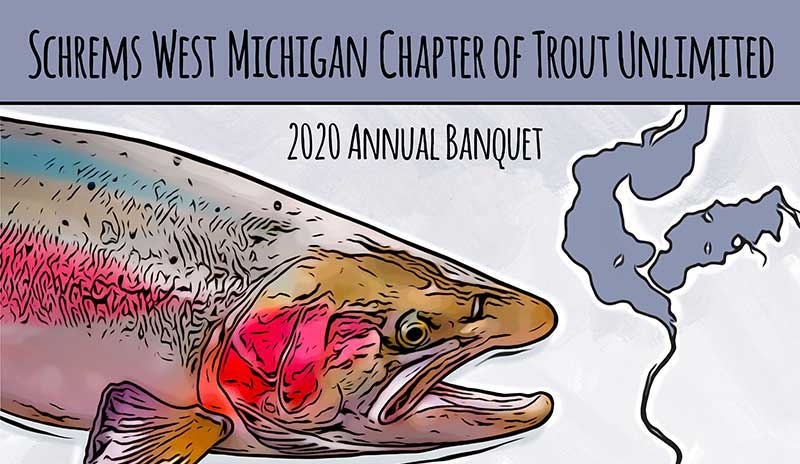 The Board of Directors of Schrems West Michigan Trout Unlimited thanks all those individuals, and Individual and Table sponsors who registered for our annual banquet which was to be held on October 13, 2020. Unfortunately, due to the continuing limitations on large in-person gatherings, we made the decision to cancel the banquet this year.
As most are aware, our annual banquet is not only a time of celebration, fellowship and recognition, it is also our Chapter's only annual fundraising event providing the funds required to execute our conservation and education programs. The lack of the funds raised at our banquet will severely limit our ability to continue our work protecting, restoring and conserving West Michigan's coldwater resources.
In lieu of the banquet, we will be holding a Conservation Benefit Auction during October which will be held online concluding with a live, albeit via electronic means, auction featuring Glen Blackwood. To support this new event, we are asking those of you who already registered and paid for the banquet, to please consider sponsoring the upcoming Benefit Auction by donating your registration fees to Schrems, thus helping us maintain the financial strength required for us to carry out our mission.
Donations in any amount are appreciated, but donations made at the Individual Sponsor and Banquet Table sponsor levels, will receive the same thank-you gift they would have received had they registered for the banquet as well as name recognition on the Benefit Auction and the Chapter's websites and the Chapters social media platforms;
Brook Trout (Table Sponsor) – $1,200 – Half day float with Trout Bum John Schmidt.
Brown Trout (Individual Sponsor) – $300 – Schrems Logo Yeti 26 oz. Rambler water bottle; or
Rainbow Trout (individual) – $60
As a special incentive, everyone who donates to support the Conservation Benefit Auction, regardless of amount, will participate in a drawing for a Trout Unlimited logo Yeti Tundra 65 cooler held during the "Live Auction."
Donations can be made by clicking the Donate button on our website or via check mailed to Schrems West Michigan Trout Unlimited, PO BOX 230094 Grand Rapids, MI 49523. For those who have registered but would rather receive a refund, please contact Tom Mundt at [email protected] and he will issue the refund directly.
We will miss seeing all of you this year, but thank you for your patience and support, please donate to our Conservation Benefit Auction at one of the levels noted above, or at any level you can afford – We Need Your Help. In the meantime, stay safe, wear a mask and socially distance until we can once again gather to celebrate Schrems' 59th anniversary at a bigger and better banquet in 2021.
Best Regards,
Schrems West Michigan Trout Unlimited Board of Directors