SCHREMS WEST MICHIGAN CHAPTER TROUT UNLIMITED
2016 BANQUET LIVE AUCTION ITEMS
This year there will be an after dinner live auction of the follow items.  Remember to bid high and bid often – the dollars raised at this event help support the chapter in their effort on conservation, restoration, and research projects; as well as, related educational and informative learning experiences.

Box #5 (of 50) Commemorative Fly Box made for Trout Unlimited's 50th Anniversary and a copy of Philosophy of Trout Unlimited by Art Neumann (signed).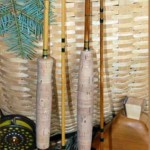 RON BARCH CUSTOM MADE SPLIT BAMBOO FLY ROD
Nationally recognized master rod maker Ron Barch, owner of Alder Creek Rods, will custom make a bamboo fly rod of your choosing. You pick the weight, length, color of wraps, etc. This will be two-tipped, two piece rod and include a brass capped tube and cloth sock.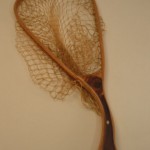 SAM LACINA ONE OF A KIND LANDING NET
Master landing net builder Sam Lacina offers up one of his beautiful nets. Sam is one of the finest net builders in the country, having his nets featured in magazines like Garden and Gun and sold by Orvis. Net design TBD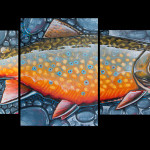 DEREK DEYOUNG SIGNED/NUMBERED FRAMED METAL PRINT
We offer a beautiful piece of artwork by Michigan artist Derek DeYoung. This signed and numbered artwork is printed on metal in a very limited edition of 50. It is mounted in a custom made gold wooden float frame. This print was featured on this year's banquet poster and invitation. Derek's artwork has been featured in numerous fly fishing publications and his artwork can be seen on items such as Abel reels, Buff headwear and Simms clothing.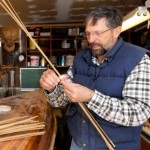 BILL LAMBERSON CUSTOM MADE SPLIT BAMBOO FLY ROD
This is a tremendous opportunity to purchase one of twelve rods made by Bill Lamberson for the Trout Unlimited Embrace-A-Stream program (one rod going to each of the 11 Embrace-A-Stream regions across the country). Bill is one of the finest rod makers in the country, and we were fortunate enough to get one of these 7 1/2 foot, 5 weight custom rods to offer here at the banquet. The taper for this rod is taken from a Paul Young Perfectionist, a favorite of Art Neumann, founding father of Trout Unlimited. The rod has nodeless construction and is a two piece, two-tip rod and features an agate stripping guide, and comes with brass capped aluminum tube with bag.