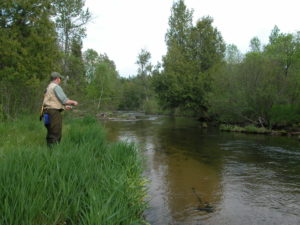 In a bit of irony, Michigan's Natural Resource Commission is considering opening the Deward Tract — a specially protected river corridor — to off-road vehicles. The area along the upper Manistee River was first protected in 1980 because of its fragile vegetation, historic value, and quality fishing.
Up to November 16, the DNR is taking your comments on this issue. Your voice is needed now!
For a bit of background on the Deward Tract, "The DeWard tract is a 4,720 acre special management area located in Antrim, Crawford, Kalkaska, and Otsego Counties. Plagued by damage from motorized vehicles, this special area was designated in 1980 to protect the Upper Manistee River Corridor. Today lush vegetation and wildlife in the area attribute to the success of the protection measures put in place."
Here's the press release from the Michigan DNR and how to send in your comments …
Tell us what you think: Comment on recommendations for ORV use on state forest roads for northern lower Michigan
The Michigan Department of Natural Resources is welcoming comments on revised recommendations to open thousands of miles of state forest roads to off-road vehicles in the northern Lower Peninsula. The expanded access takes effect January 2018, as required by Public Act 288 of 2016.
The revised recommendations incorporate public input received in June and July. They will be discussed at Natural Resources Commission meetings Oct. 12 in Alpena and Nov. 9 in Lansing. DNR Director Keith Creagh will make a final decision at the Dec. 14 NRC meeting.
Public input will be accepted as the process continues. In-person comments will be accepted at all three NRC meetings. Mail, email and online comments will be accepted until Nov. 16:
Send emails to [email protected].
Send mail to DNR Roads Inventory Project, P.O. Box 456, Vanderbilt, MI 49795.
Visit www.michigan.gov/forestroads to comment online. Instructions are available on the website.
PA 288 encourages more people to enjoy Michigan's public lands by enhancing ORV opportunities in the northern Lower Peninsula. Beginning in 2018, all state forest roads in the region will be open to ORV use unless designated closed by the DNR. Reasons for closures include ensuring user safety, preventing user conflicts and protecting environmentally sensitive areas.
For more information about the state forest road inventory and recommendation process, visit www.michigan.gov/forestroads. For more information about trails in Michigan and to sign up for trail email updates, visit www.michigan.gov/dnrtrails.