SWMTU is trying to establish a permanent endowed fellowship program at Michigan State University to continue a tradition first started by Sis Schrems in honor of her husband, and our founding member, Cornelius "Cornie" Schrems.

Every year since 1987, our Chapter has awarded a $2,000 scholarship to a graduate student at MSU who is interested in coldwater fisheries and wild trout populations. Sis Schrems established the scholarship program initially, and our Chapter supplemented the fund via a fund-raising effort around year 2000.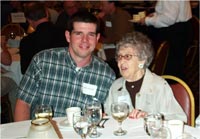 To award the $2,000 scholarship in recent years, the Chapter has used $1,000 out of the Schrems Scholarship fund and $1,000 out of our general operating account. At the start of this new fund-raising campaign, the Schrems Scholarship fund had an approximate $20,000 balance.
The Chapter's  intention in setting up the endowment at MSU includes the following:
Permanently honor the intentions of Sis and Cornie Schrems to help support a current MSU student of the Department of Fisheries and Wildlife who works toward the mission of SWMTU.
Annually recognize such student with a one-time $2,000 award known as the Schrems West Michigan Trout Unlimited Graduate Fellowship.
Establish a minimum endowment fund at MSU in the amount of $40,000.
Allow MSU to manage, invest and grow the endowment in perpetuity.
In order to make this happen, our Chapter is attempting to raise an additional $20,000 in 2011 to achieve our goal of $40,000. So far, we've raised about $17,000 through private donations and matching funds from environmentally-oriented endowments.
Now, we need the support of SWMTU members to raise $3,000 in 2 months.
The easiest way to make your donation is to make out a check to Schrems West Michigan Trout Unlimited, and mail it to P.O. Box 230094, Grand Rapids, MI 49523.
Donations in any amount will help us meet our goal, and keep in mind that your donations are tax-deductible.
If the fund-raising effort is successful, the scholarship selection will be formalized at MSU and continue the traditional selection efforts of MSU's Dr. William Taylor. A selection committee will be comprised of a member of SWMTU, an MSU faculty member interested in coldwater fisheries, and a designee of the Graduate School.
The Fellowship recipient will be a graduate student working on coldwater fisheries who demonstrates excellent academic credentials, evidence of leadership, ability to communicate with the public, ability to solve problems creatively, and a dedication to trout fisheries. A list of past winners of the Schrems Scholarship can be found here.
If our fund-raising effort is not successful in raising $20,000 in 2011, the Chapter will deposit the accumulated funds in the bank account that is currently earmarked for the Schrems Scholarship and will continue funding the scholarship as it has in recent years.
About the Schrems
The history of Cornie Schrems and Trout Unlimited goes back to 1959 when TU itself was established in Grayling, Michigan. One of the original founding members of Trout Unlimited was Cornie. While the original group focus centered on the Au Sable River, Cornie wanted to take this notion beyond the banks of that fabled river. He felt the same dedication and effort could be applied to his favorite "home waters" of the Pere Marquette and Little Manistee rivers. Thus, it was that Cornie joined together with fellow Grand Rapids fly fisherman such as Blake Forslund, C.R. Evenson and Dick Nelson to create the West Michigan Chapter in 1962.
Cornie and the others gathered more believers in the cause and the Chapter prospered and grew larger. Cornie is best remembered for the time and effort he devoted to teaching younger fly fishers about the privileges and responsibilities that go with fly fishing for trout. His financial support, leadership and vision never faltered. He was instrumental in establishing the "Flies Only" section of the Pere Marquette River. Each year, the Chapter gives the Cornelius Schrems Award to a person who has contributed to the lore and sport of fly fishing.
After Cornie's passing in 1982, his wife, Sis, founded the Schrems Scholarship Fund for graduate students to use in research projects involving wild trout. In 1994, Sis received the Distinguished Service Award from Trout Unlimited at its National Convention in Bozeman, Montana.
Our Chapter owes a great debt of gratitude to the Schrems. Through 38 years of continuous and steadfast support of Trout Unlimited, Sis and Cornie created a legacy. In 2000, our Chapter renamed itself the Schrems West Michigan Chapter of Trout Unlimited. This was intended to be more than a gesture of appreciation. Our hope is that it will be a constant reminder that we have to work to continue the Schrems' legacy.  Thank you for your help and consideration in this effort.  If you have any questions or concerns regarding this information, please do not hesitate to contact me.
Sincerely,
JR Hartman
President, Schrems West Michigan Trout Unlimited
616-364-0113
[email protected]