This winter's seminars are about to kick off, and it may be the best line-up ever.
Starting on January 20, there will be a huge event to introduce, celebrate, and discuss the Rogue River Home Rivers Initiative.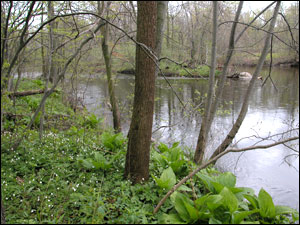 It'll be held at the headquarters of Wolverine World Wide, a company long-connected with the Rogue River and a supporter of the Initiative. We want this to be a fun and casual event with plenty of space and time for mingling. This is a large venue and we expect a large audience. The interest in the Rogue River project coupled with Kevin Feenstra's following is sure to make this happen.
Because of the demand for this event, it's important to reserve your spot as soon as possible! Please RSVP to [email protected]. For questions, you can call Dave DeJonge at 616-771-9690.
Here's the line-up for the event …
Kevin Feenstra
Kevin is a well-known West Michigan fishing guide and has recently released a DVD where he takes viewers on a journey through three seasons of swinging flies for steelhead. Kevin grew up fishing the Rogue River. He'll talk about modern fly-fishing techniques for West Michigan steelhead and trout. You'll learn how to better swing streamers and tie with today's modern materials.
Tom Mundt
Tom, a former VP with Wolverine World Wide, will speak on behalf of Blake Krueger, the President and CEO of WWW, about the company's support of the Rogue River project, and will let you know what's going on with the demolition of the tannery on the banks of the Rogue River.
Nichol De Mol
Nichol is the project manager for the Rogue River Home Rivers Initiative. Since being hired for this position by Trout Unlimited she's begun scoping out the work ahead of her and has been meeting with interested community groups.
Date: January 20, 2011
Time: Doors open at 6pm, Presentations start at 7pm
Place: Wolverine World Wide, 9341 Courtland Drive NE, Rockford
Cost: $20 for heavy appetizers. Full cash bar.
RSVP: To [email protected] by January 5, 2011
When you get to WWW Headquarters, here's where to go.