Do you own property that was historically wet but the natural drainage has been altered by the installation of ditches or agricultural drain tiles?
Do you own marginal agricultural land that is often difficult to plant in the spring or harvest in the fall because of wetness?
Are you interested in receiving technical assistance and cost-share $$ to improve wildlife habitat on your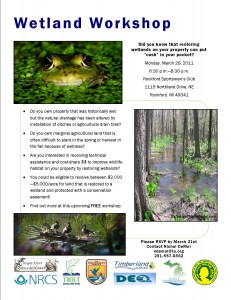 property by restoring wetlands?
You could be eligible to receive between $2,000 —$5,000/acre for land that is restored to a wetland and protected with a conservation easement!
Learn more at this FREE WETLAND WORKSHOP:
Monday, March 28, 2011
6:30 p.m. – 8:30 p.m.
Rockford Sportsman's Club
1115 Northland Drive, NE
Rockford, MI 49341
The Rogue River Watershed Council and Trout Unlimited, Inc., in partnership with Timberland RC&D, the Kent Conservation District, the Izaak Walton League, and the Department of Environmental Quality, will be hosting a FREE wetland workshop for landowners at the Rockford Sportsman's Club in Rockford, MI.  The workshop will highlight programs that assist private landowners to restore historic wetlands on their properties. Landowners that meet federal requirements may be eligible for wetland restoration payments that pay between $2,000-$5,000 per acre in Kent, Newaygo, and Ottawa Counties.
If you would like to attend, please contact Nichol De Mol at [email protected] or 231-557-6362.