Do you want to know what the water quality of the Rogue River and its streams are?
Then come and join us in collecting stream insects.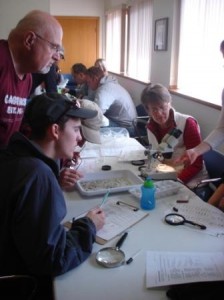 Stream insects are a good measure of water quality since many are pollutant sensitive and can be rapidly identified.  Volunteers will be assigned a monitoring group and will work together to collect insects at stream sites.  Each group will come back to the township hall and identify the insects they have collected.  The end result will be a "Stream Quality Score", which will be used to determine the quality of your stream site.
Date: Saturday, October 1, 2011
Time: 9:00 a.m. – 1:00 p.m.
Where: Algoma Township Hall, 10531 Algoma Ave, Rockford, Michigan 49341
Lunch will be provided for all volunteers.  Please bring waders if you have them.
Please contact Nichol De Mol at [email protected] or 231-557-6362 if you would like to attend.
Event in partnership with the Michigan Trout Unlimited River Keepers Program.