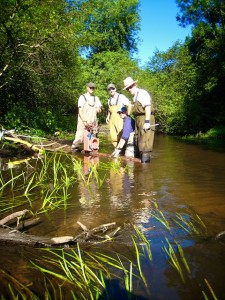 Lead by Don Messinger, several volunteers met at Hemlock Crossings Park on Saturday to work on the Pigeon River with Josh Zuiderveen of Streamworks LLC.  The group installed some habitat and cleaned a stretch of the river of debris. (see more pictures)
Fortunately the garbage picked up was significantly lower than two years ago when we first worked on this stretch.  If you remember the photo from that day showed a couple of tires and mounds of bottles and cans including a couple of rusted drums were removed from the river that day.
A separate crew has also been working to create a habitat map of the Hemlock Crossings section of the river.  The first half was completed on Monday, August 23rd, and the second half is scheduled to be completed on September 9th.