Key Topics Include Restoring the Rapids, Stormwater Management, Recreation, Habitat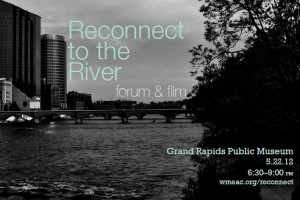 GRAND RAPIDS – West Michigan Environmental Action Council, Grand Rapids Public Museum and Founders Brewing Company are presenting a forum examining the current state and potential future of the Grand River in West Michigan on Tuesday, May 22 from 6:30 to 9 p.m. in the Grand Rapids Public Museum's Meijer Theatre.
RECONNECT TO THE RIVER will feature an expert panel, discussing the behaviors which contributed to the degradation of the river's water quality and the available options for restoring the river's health. Key topics include restoring the rapids, fisheries and habitat, stormwater management, river activation and recreation.
"The Grand River has defined our community literally and emotionally since the very beginning," said Nicholas Occhipinti, Policy Director for the West Michigan Environmental Action Council and an event panelist. "It's our key geographic feature and our greatest inland natural resource. We settled here for it, and it's always been a key economic and environmental asset. Still, we haven't always appreciated it."
Occhipinti noted several key initiatives currently underway which stand to greatly improve how our community relates to the Grand River. WMEAC's community stormwater planning initiative is wrapping up a two-year project focused on improving water pollution policy in the city. Trout Unlimited is involved in a similar initiative upriver to help protect local fisheries and aquatic habitat.  Grand Rapids Whitewater is in the midst of a high-profile plan to put the city's eponymous rapids back into the Grand River. The City of Grand Rapids and several partners downtown are working hard to improve access to the river and fashion a downtown district that appreciates, values and protects the Grand.
Panelists include Nicolas Occhipinti; Susan Schulz, Director of the Planning Department for the City of Grand Rapids; Joshua Zuiderveen, Owner of StreamWorks, LLC; Kristin Thomas, Aquatic Ecologist at Michigan Trout Unlimited; and Chip Richards, Co-founder of Grand Rapids Whitewater; plus Phil Skaggs, West Michigan Director of Michigan League of Conservation Voters, who will serve as moderator.
The evening will also feature the debut of a short film by the Green Living Project, a global initiative focused on documenting sustainability-related stories that highlight efforts in tourism, wildlife, education, food, community development and social issues. The film will feature WMEAC, Trout Unlimited, Grand Rapids Whitewater and City of Grand Rapids.
Sponsors for the event include Grand Rapids Public Museum and Founders Brewing Company. The event is free to the public, although registration is encouraged, as seating is limited. A reception with cash bar will begin at 6 p.m. Programming begins at 6:30 p.m. RSVP at wmeac.org/reconnect.
Visit wmeac.org/reconnect for more information and a complete list of panelists. For interviews contact Daniel Schoonmaker at [email protected] or 616.451.3051 x28.