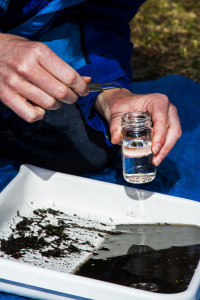 In many cases we think bugs are a nuisance, but bugs in a stream can be very useful. Stream insects are a good measure of water quality. Unlike fish, stream insects cannot move around much so they are less able to escape the effects of sediment and other pollutants that diminish water quality. Stream insects can also be easily identified.
Trout Unlimited National and Michigan Trout Unlimited will be holding a Stream Insect Monitoring Event on Saturday, October 14th, 2017 from 9:00 a.m. – 1:00 p.m. at the Rockford Community Cabin – 220 North Monroe Street in Rockford. Volunteers will be assigned to a monitoring group with a team leader. Each group will collect and identify insects from different stream sites in the Rogue River watershed. You don't need any experience with stream insects to participate and all ages are welcome.
Please RSVP to Nichol DeMol at [email protected] or 231-557-6362 if you would like to attend. Lunch will be provided for all volunteers. Please bring waders if you have them and dress for the weather conditions. Children under 16 years old need to be accompanied by an adult.
The Rogue River Home Rivers Initiative Project is funded by the Frey Foundation, Grand Rapids Community Foundation, the Wege Foundation, the Wolverine World Wide Foundation, and the Schrems West Michigan Trout Unlimited.