The White River Watershed Collaborative championed an effective and engaging year of conservation efforts in the watershed.
This burgeoning collaborative of nonprofit organizations, state and federal agencies, municipalities, and community leaders continued to work together to collect baseline data, initiate strategic restoration efforts, and educate and engage the watershed's community to empower new and existing river stewards.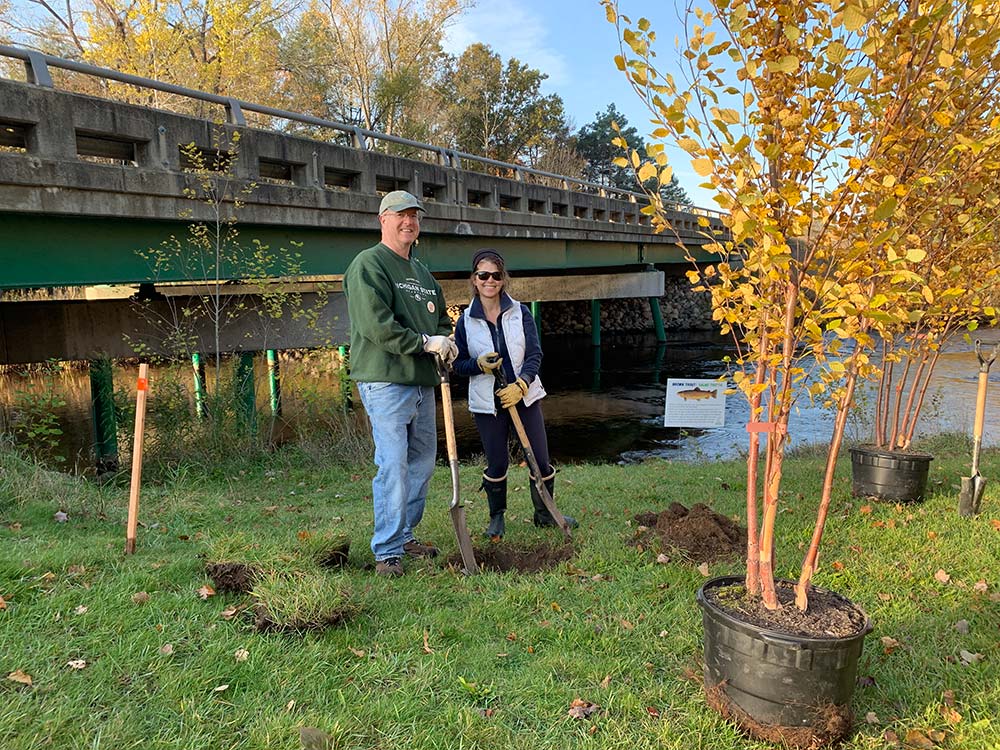 The Research and Monitoring subcommittee orchestrated road-stream crossing surveys throughout the watershed, ultimately cataloguing 115 crossings to identify and prioritize future aquatic organism passage work. They also completed 24 miles of habitat mapping, a procedure that involves wading or floating entire stream lengths and taking measurements to establish the percentage of runs, riffles, pools, and woody debris. This allows resource managers to look at a whole stream system to understand what habitat may be abundant or lacking which will inform future in-stream habitat projects.
Trout Unlimited and the White River Watershed Partnership deployed two real-time monitoring stations measuring temperature, depth, and conductivity on the South Branch White and Carlton Creek. These stations provide publicly accessible, real-time data available online here. These cost-effective stations are maintained by trained volunteers and help build local capacity by providing constant data that could not be collected by staff and volunteers alone.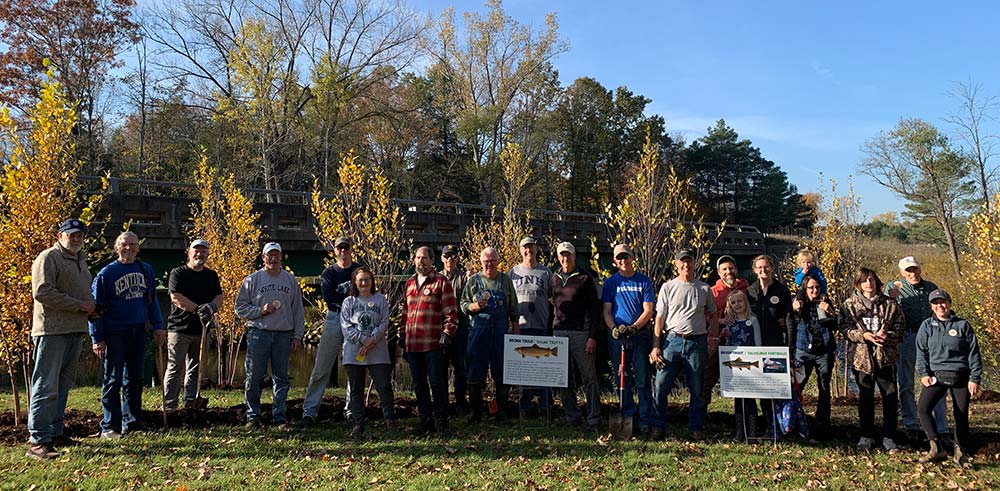 The Collaborative also worked with U.S. Forest Service, U.S. Fish and Wildlife Service, U.S. Geological Survey, and University of Minnesota to evaluate the use of thermal imaging to identify groundwater inputs and coldwater refuge to aid in conservation planning. Thermal imaging involves using drones to gather thermal images to map water temperatures. By understanding where key coldwater inputs are in a river system, resource managers can better inform the restoration and protection work they do.
Local community members who call the White River home, as well as those who love it from afar, came together to have a positive impact on this special watershed last year.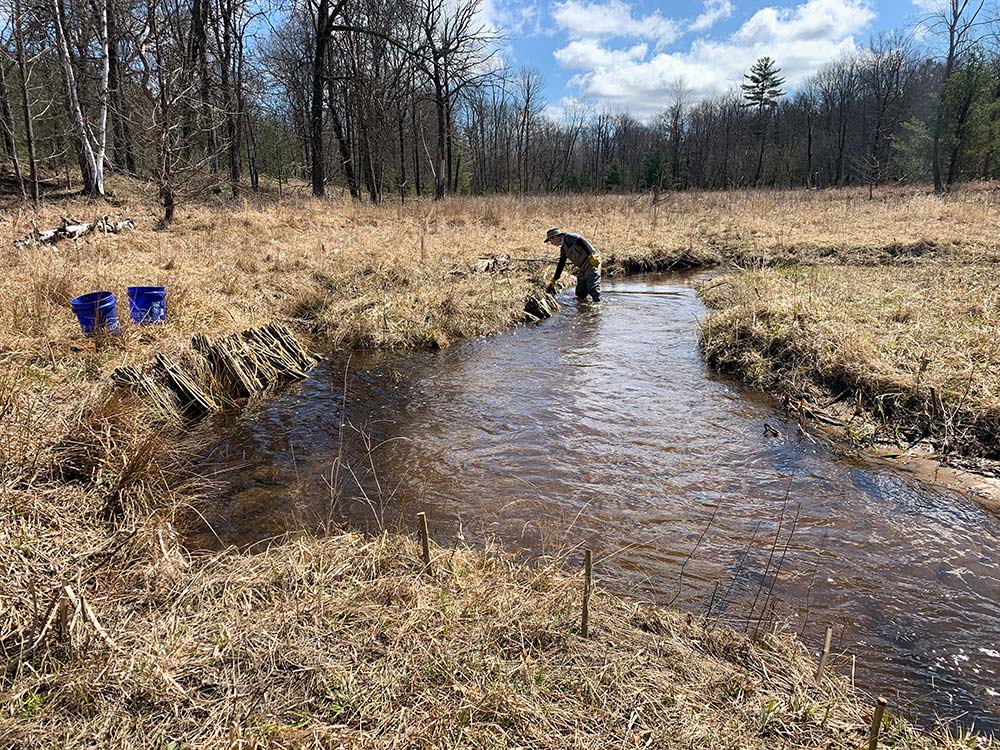 30 volunteers from all over Michigan and beyond traveled to meet on the White River for a tree planting this past fall. People came from Pentwater, Reed City, Custer, Holland, Grand Rapids, and even Illinois, to work alongside the local community, which speaks to how meaningful this watershed is for so many – locals and visitors alike. In just under two hours, volunteers of all ages planted 10 large river birch trees from a local nursery at the White River Roadside Park to add diversity, climate resilience, shade, stability, and woody habitat to the river. Trout Unlimited and the Land Conservancy of West Michigan planted an additional 1,000 live stakes on a protected conservation easement on 5 Mile Creek in the upper reaches of the watershed. These tree plantings were made possible by funding from the Great Lakes Restoration Initiative through the U.S. Forest Service.
Another 10 volunteers spent two days working on Martin Creek, a high-quality tributary to the White River. Led by Trout Unlimited staff and in partnership with the U.S. Forest Service, volunteers planted riparian plants and installed woody debris to enhance fish habitat.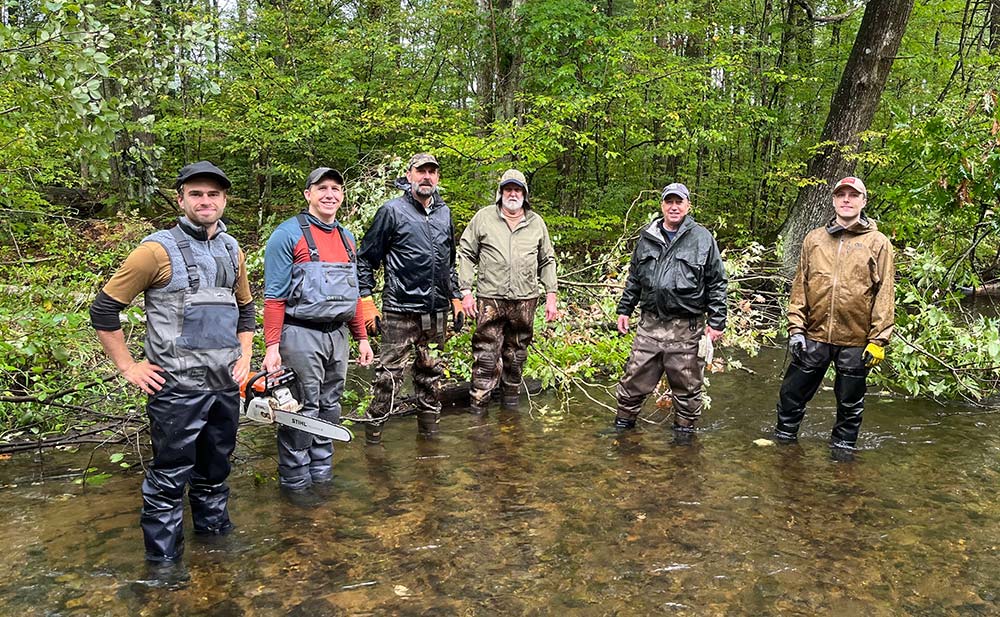 Schrems West Michigan Trout Unlimited hosted another successful White River Cleanup in the fall, removing trash and debris that poses a threat to fish and wildlife as well as river recreators. This event not only benefits the health of the White River, but it's a fun and fulfilling community gathering where participants can meet fellow conservationists and enjoy the camaraderie while giving back.
The Economic Opportunity subcommittee and collaborative member West Michigan Shoreline Regional Development Commission (WMSRDC) launched an economic impact study of the White River. With funding through Fremont Area, Oceana, and Newaygo Community Foundations, WMSRDC hired Grand Valley State University to complete the study to help provide an understanding of how much the White River and its users contribute to the local economy, which is incredibly valuable data to support further protection and restoration efforts in the watershed.
It was a busy and productive 2022 and momentum continues to grow in the White River watershed. The Collaborative is looking forward to a fruitful 2023 working with its impactful members and stewards throughout the watershed.
The work of the White River Watershed Collaborative is funded in part by a grant from Fremont Area Community Foundation.