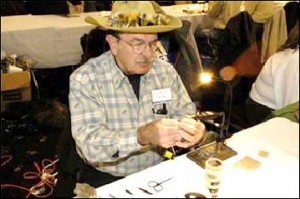 On December 30, 2010, the fly fishing community lost one of its greats and many of us lost a very good friend, Dick Walle, to a short, but gallant battle with cancer.
Dick was best known among fly anglers as the godfather of soft hackle flies. To many, he was the guy wearing the funny hat full of spent flies, who held many seminars across West Michigan, espousing the benefits by adding soft hackle fishing techniques to your fishing  arsenal. His presentations always drew a crowd, not only due to his knowledge of our sport and soft hackle fishing techniques, but because of his engaging, entertaining, approachable style which employed humor, wit and just the right amount of sarcasm. These attributes were clearly displayed last year when Dick took the stage as the keynote speaker at our chapter's very succesful February 2010 meeting.
Being the consummate teacher, Dick leveraged his love of fly fishing to help women rebuild their lives by donating his time to Reeling and Healing. Through this vehicle, he and his wife Judy employed the challenges of fly fishing to help cancer victims regain confidence and build self-esteem.
I met Dick nearly 20 years ago when my wife and I became part of a group of fly fishing couples who gather each spring and fall at Barothy Lodge to fly fish for steelhead, salmon and trout on the Pere Marquette river. Dick's participation and unique persona at these semi-annual events will be missed greatly.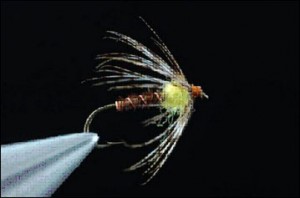 From this introduction nearly two decades ago, Dick and I became good friends. He was my mentor and I his student and we spent many days together fishing the Holy Waters of the Au Sable River (his second home) with our most productive day occurring on the Friday before trout opener about 10 years ago. On that day, Dick and I caught and released more than 100 trout, including several fish in the 14 inch to 16 inch class, using Dick's soft hackle and dry fly Hendrickson patterns. Dick finished that day catching a 20+ inch rainbow just above Wakley Bridge … a career best on the Au Sable.
Dick was clearly a leader within the fly fishing community. His passion and love for the sport, good humor (and sometime bad jokes) coupled with a commanding presence both on the river and tying vice will be greatly missed, not only by me, but all of you who who ply the streams in search of trout with hooks decorated with floss, dubbing and feathers.
So on behalf of all who knew and loved him, I say good night Dick. And for the rest of you, I just want to say … soft hackle flies do work and I encourage all of you to add these simple, but effective flies to your boxes, thus keeping the spirit of Dick Walle alive for generations to come. I know I will.
Regards
Tom Mundt
The Junior Board Member of the Schrems Chapter of Trout Unlimited