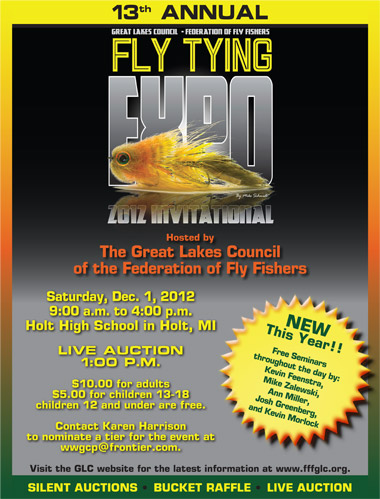 The Great Lakes Council of the Federation of Fly Fishers will host the 13th Annual Fly Tying  Exposition at Holt High School in Holt, Michigan (5885 West Holt Road, Holt MI 48842) on Saturday, December 1, 2012. The expo will be open to the public from 9:00 a.m. to 4:00 p.m.
Over 80 tiers will be on hand this year to demonstrate their fly tying skills.  Returning talents include Jeff  "Bear" Andrews , Dennis Potter, Ray Schmidt,  Julie Nielsen, Chris Soule, Tim Scott, Jim Reed, Gerry Worden and many others.  There is a modest admission fee for the event: $10.00 for adults, $5.00 for children 13-18; children 12 and under are free. Contact Karen Harrison to nominate a tier for the event at [email protected].
Also – don't forget your local tying event – The Celebration of Fly Tying – Saturday February 25th, 2013 sponsored by the Grand River Fly Tyers located at the Knights of Columbus Hall 5830 Clyde Park Ave Wyoming MI.  More information to come!