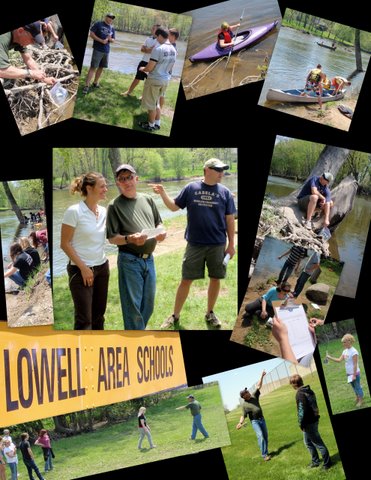 On May 1st, students from Lowell High School's three Ecology & NaturalResouce management classes of teacher (and former Schrems board member) Tammy Coleman, released a record 86 Chinook Salmon into the Flat River just upstream from the Grand River.
> Read the article from the Grand Rapids Press.
The salmon were raised from their egg stage in Mrs. Coleman's classroom throughout the school-year as part of the Salmon-in-the Classroom program of Trout Unlimited.
Lowell HS is one of the five area school participating in the SIC program thanks to the a grant from Schrems WMTU for start-up equipment. Two addition schools will be funded in school-year 2010-11.
In conjunction with the salmon release, the students celebrated Earth Week along the river by participating in several related activities.
Among the volunteers for the day were two Schrems WMTU members: Aaron Snell who lead groups of students on a tour/discussion of watershed and habitat assessment while Dick Smith conducted fly rod casting instruction that resulted in active student participation.