Please join us in cleaning up the Rogue River!
We will be cleaning up approximately 3 miles of the Rogue River downstream from the Rockford Dam.
Date: Saturday, April 23, 2011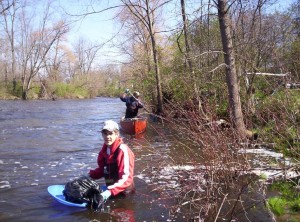 Time: 10:00 a.m. – 12:30 p.m.
Where: Richardson Sowerby Park, Rockford
This park is along the Rogue River just downstream from the Rockford Dam and is easily accessible from the White Pine State Trail or off Main Street behind the Rogue Valley Towers.
Morning refreshments and a  lunch will be available for volunteers.  You will also be entered into a drawing to win free tickets to Celebration Cinema or the Coopersville and Marne Railway Company.  Please wear closed toe shoes and bring gloves if you have them.
RSVP: Nichol De Mol, [email protected], 231-557-6362
Event in partnership with the "Rogue River Project" founded by Andrew Kersting.