It was late afternoon, a Friday.  I was working on my third glass of Italian Barolo, a medium bodied red, visiting with friends around our office conference table.
"What made you take up wine making?  I'm sure it isn't an abundance of spare time,"  Rick, a friend and fellow trout fisherman asked, cradling a glass of Cabernet.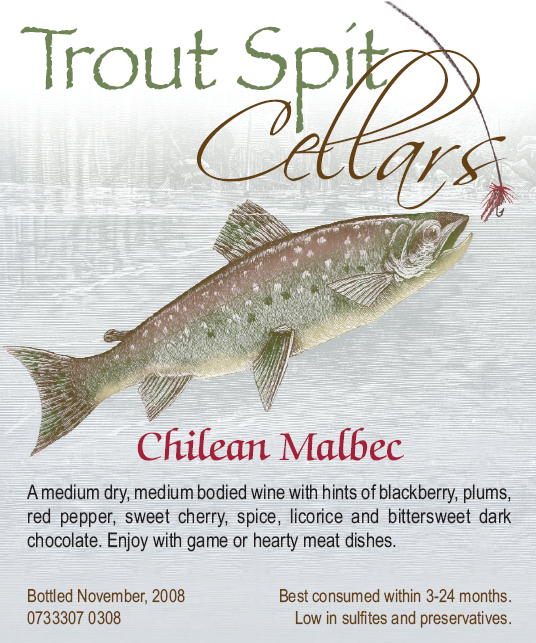 "That's true.  But a guy can only tie so many flies during the winter before he goes blind or acquires a permanent hand cramp.  Another night scrunched over my tying bench could disrupt my already questionable sanity."   It was a good question.  What prompted me to begin yet another hobby?  It started when I visited a friend, a wine maker.  I appreciated that she gave me a bottle, and noted how happy she seemed to share it.
My grandmother often lectured me that when you visit someone, or someone visited you, you must present them with something you've made, something of yourself.  Her gifts were home baked bread or blueberry pie.  She loved sharing those with others.
I feel the same way when I give flies I've tied to other fishermen, especially when the fly fools a  fish or two.  In a small way it gives me a sense of purpose, of worth.  Of course, not everyone fishes.  But plenty of folks like wine, right?  Bingo!  An easy choice.
I confess, I'm not squishing grapes in my bare feet.  The only time that seemed a worthwhile exercise was in an old movie starring Sophia Loren.  Without Sophia, no way.  I make wines from kits, assembled with juices garnered from vineyards around the world.  South African Pinotage, German Müller Turgau, Australian Zinfindal Shiraz, Italian Pinot Grigio.  Whites, reds, sweets and drys, without all the pruning and stomping.
"This Pinot Grigio is wonderful," a woman at the end of the table said.  "What do you call your wines, what is your label?"
I confess, I hadn't considered a name.  Did I need a personal label for my wine creations?
"What do you think?" I asked the six people sitting, munching, and sipping.  Six empty bottles stood in silence, so the question opened a flood gate of creative suggestions.   Our offerings ranged from sublime to garish, sweet to risque'.
"I think the name should evoke a pleasant thought that can also be frustrating," I said.  "You know, like when a trout takes your fly, then spits it out.  Hey, how about Trout Spit Cellars?"
By then our wine tasting had stretched to two hours and reaction times varied.  The men thought it was a fine name.  The women, except one who fished, thought of saliva.  Even so, after a few more glasses the vote was unanimous, a true credit to democracy.
Now I pass out bottles of Trout Spit Cellars wine to family, friends, and special clients. Responses have been surprising.  Putting modesty aside, the wines are good, and often better.  I've had a lot of requests to purchase my wine but I have no interest in obtaining a winery license.  Even so, Trout Spit Cellars will be coming to a store near you soon.  A commercial winery, an off-shoot of Great Grapes International, has asked to license the label.  Of course, I might still part with a bottle or two in exchange for directions to a secluded steelhead honey hole.