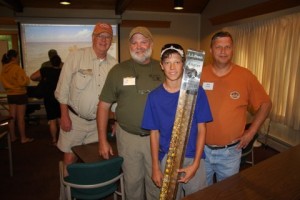 By Noah Lindhout (age 13)
The Trout Unlimited summer camp can be summed up in one word, and that word is opportunity. It is an opportunity to learn about the wonders of God's amazing creation including the fish of the rivers and the insects of the air (and river bottom).
I realized in this past week that when you are fly fishing in a beautiful river (in my case, the Au Sable) catching fish is not the only cool thing. You shouldn't be discouraged just because you didn't catch anything. The wildlife is amazing too! Birds (two blue herons), bugs, raccoons, minks, and deer are what I saw in a single trip. I didn't catch anything in the river, but that didn't keep me from having one the best times I've ever had.
The TU summer camp is not just for learning about the outdoors. It is also about learning new things about yourself. I realized how much I love the art of fly tying this past week and that I have a unknown skill for a good roll cast. It is just amazing what this camp has taught me.
The TU camp is not just an opportunity for learning. It's about making new friends and learning about people and telling fishing stories
with them. That was actually another one of my favorite things about the TU summer camp, my fellow campers.
One thing that absolutely thrilled me were the things that my volunteer counselors (whom I thank so much) have been through while
fishing. Mr. Bedford (a counselor) broke his leg while wading and had to crawl 2 MILES to get back to his truck. Tim Jacobs (another counselor) showed us a picture of a redfish he caught while fishing the flats of the Florida Keys that was eaten by a shark when he released it. It was just thrilling to hear those stories.
It was also an opportunity for creating some stories of my own about the camp. I was hooked in the neck and had to get it ripped out by
Mr. Jacobs, and I was feeding ants to the trout, which would make them explode out of the water (and of course they wouldn't bite my ant fly).
So to sum it all up, if you were to ask me what the Trout Unlimited Summer Camp is? I would answer with ease, an opportunity to do new things, and learn new things about the outdoors you have never done or learned before.
Good luck fishin'!