Stegman Creek This vital tributary of the Rogue River was the recipient of two restoration projects durning July. Schrems teamed up with Josh Zuiderveen of Stream Works, LLC and Timberland RC&D  for contiued efforts to maintain and improve Strgman.
On July 10th, Schrems volunteers George Buursma, John Hastings,  Dave Smith,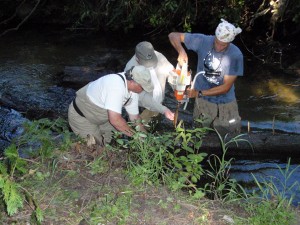 Rich Steketee and George  Zuiderveen assisted project leader Josh Zuiderveen  installed bank stabelization in two locations as the Stegman passes through private property North of 13 Mile Road.
On July 24th, Schrems volunteers Stuart Decker, John Hastings, Jim Flamming, Dave Smith and Rich Steketee assisted  project leader Josh Zuiderveen installing a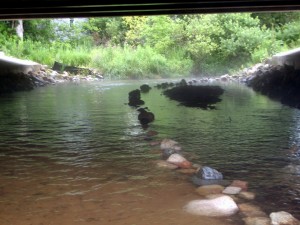 boulder cross vain to neck down the stream channel as it passes under Northland Drive. As a result, sediment will be trapped on the edges and a deeper riffle pool will now run through the center.
Watch for future volunteer opportunities as continued resortation projects are scheduled for Stegman Creek. 
Dolan Habitat Improvement Project On July 13th, the required pre-project fish count (via Electro-shocking) was compleated…see posting.