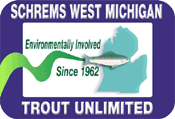 The SWMTU Chapter has voted in a slate of returning and new board of director members. The board of directors for Schrems West Michigan TU is made up of 15 volunteers who care about our cold water resources and are generous enough to give up a few hours a month to help protect, restore and reconnect those resources. Directors serve three year terms starting after elections at our Annual Membership Meeting at Wa-Wa Sum in June. These are the new and returning board members.
Dave DeJonge
Ellie Frey Zagel
Mark Gurney
Pete Miller
Eric Doyle
Steve Frendt
George Zuiderveen
We are thankful for the contributions from exiting board members Eric Johnson, Jason Cook, and JR Hartman, who have served on the board of directors for Schrems for many years. Their dedication, ideas, and leadership benefiting our cold water resources will be missed.
What makes our chapter so successful, and one of the premier chapters in North America, is the diversity and turn over we have on the board. New ideas and fresh energy are keys to our success! We are involved in not only stream projects but fundraising, grant writing, project management, public relations and community education.
Additionally, the board of directors at the annual membership meeting voted on open positions for board leadership. For 2014-15, these are the people who will help lead SWMTU.
Jeff Edwards, President
Ellie Frey Zagel, Vice President
Secretary, Larry Risbridger
Treasurer, Tom Mundt
Conservation Chair, Pete Miller
Membership Chair, Nick Duthler
Banquet Chair, Mike Young