Our February seminar will feature Capt. Brad Petzke of Riversnorth Guide Service and includes dinner. He'll talk about "A Season of Fly Fishing Michigan's Upper Peninsula."
February 15, 2013 at Watermark Country Club
5500 Cascade Rd., Grand Rapids (map)
5:30 pm until 7:30 pm
Cost is $25 per person and pays for dinner
If you have questions, please call Jeff Edwards at 616-293-8684.
About Capt. Brad Petzke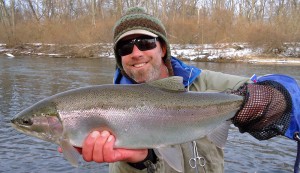 Pioneering different fly fishing techniques in Michigan's Upper Peninsula for over 12 years, Capt. Brad Petzke of Riversnorth Guide Service (www.riversnorth.net) offers remote outings in Michigan's most pristine wilderness.  Brad offers his clients a very diverse variety of outings to choose from that are vastly different from what many Midwestern fly fisherman consider the norm.  From Atlantic Salmon, Native Brook Trout, Brown Trout, Wild Steelhead, Pacific Salmon, as well as warmwater species-the U.P. has something to offer all skill level of fly angler.  Riversnorth's reputation is known as the U.P.'s authority on fly fishing-guided adventures in "God's Country".
Bordered by three Great Lakes, Michigan's remote Upper Peninsula boasts some of the finest sport fishing in the country. Remote scenery, low angler pressure, and an extremely diverse fishery is what drove Brad Petzke here from the south shore of Lake Michigan to establish Rivers North Guide Service, the U.P.'s first full-time fly-fishing outfitter.

Whether guiding a remote trout excursion lifted from the pages of Voelker or Hemingway or innovating warm water opportunities on the regions most remote waters, Brad continues to develop the rich fishing heritage in "God's Country."
Brad's passion for fishing also shines through his conservation ethic. In addition to championing conservation efforts for wild native brook trout in his home waters, Brad has twice visited our nation's capitol to lobby for national cold water conservation issues: In 2010 on behalf of the Michigan River Guides Association to advocate for stronger protections against the invasive Asian carp and in 2012 for Trout Unlimited's "Sportsmen for Bristol Bay" summit. In recognition of his leadership on conservation issues, Brad was appointed by Michigan Governor Rick Snyder in 2011 to the state's "Blue Ribbon Panel on State Parks and Outdoor Recreation," where he serves as the U.P.'s sole representative.
Consistent with his mission to share his passion for and knowledge of fishing the U.P., Brad also authors "Rivers North," the monthly fly fishing column in Michigan OutofDoors Magazine.
Not unlike the iconic "Yooper" trout ambassadors that came before him, Brad lives and breathes the U.P. fly-fishing lifestyle and has dedicated his career to sharing his passion with current and future generations of anglers.
Brad lives year round in Michigan's Upper Peninsula along with his lovely wife and daughter.