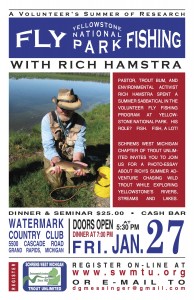 Pastor, trout bum, and environmental activist Rich Hamstra spent a summer Sabbatical from his church duties an assisting in the Volunteer Fly Fishing program at Yellowstone National Park.   His role?   Fish.   Fish, a lot!
Join us for Rich's photo-essay telling of his amazing summer adventure gathering data on Yellowstone trout and trout waters.
Friday, January 27, 2012
Watermark Country Club, 5500 Cascade Road, SE, Grand Rapids, MI
Doors open at 5:30 p.m, dinner at 7:00 p.m.
Cost: $25.00, includes meal.  Cash bar.
If you want to register now and pay later, email Don Messinger at [email protected]