Our February seminar will feature fishing guide Jay Allen and includes dinner. He'll talk about fly-fishing on the Muskegon River.
February 5, 2014 at Stonewater Country Club
7177 Kalamazoo Ave. SE, Caledonia (map)
6:30 pm until 9:30 pm
Cost is $30 per person and pays for dinner. Please pay via PayPal now or we can accept cash/check at the door. Cash bar.
About Jay Allen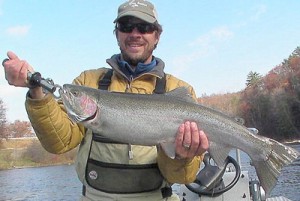 Jay has fly fished for over 25 years and guided for 14 years. Guiding in the eastern and western parts of the United States has given Jay diverse knowledge and experiences which contribute to his unique perspectives on fly fishing. Jay managed a fly fishing program at a guest ranch in Jackson Hole, Wyoming – a role which contributes to his providing an exceptional fly fishing experience.
Related Links
Having worked with anglers of all ages and skill levels, Jay offers clients great opportunities to bring fish to hand, all the while teaching techniques sure to improve success on any water. Jay's passion for entomology is particularly evident in his understanding of the intricacies of nymph fishing. Of course, as with all RiverQuest guides, each guided trip with Jay is centered on the guest, thereby adding to the enjoyment of an awaited day on the river and creating lasting memories.