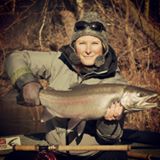 Please join us for the women's only free event featuring author and angler Jen Ripple. Jen is the Editor-in-Chief of Dun Magazine and the Executive Editor of Tight Loop Magazine. When not on the water, she spends her time teaching at corporate events, teaching women's fly-tying and fly-casting clinics, speaking nationwide on issues regarding women in fly fishing, and devoting her time to conservation efforts. Join us as Jen talks about the history of women in fly fishing.
Date
Tuesday, May 12 at 5:30pm – 7:30pm
Location
Rockford Construction
601 First St NW, Grand Rapids, Michigan 49504
This event will be hosted at the beautiful Rockford Construction building located in downtown Grand Rapids. Dinner and refreshments will be provided at no cost to registered guests. This is a women's only event so please register today as seating is limited to the first 50 registered women. Jen also plans on discussing fly fishing gear for women and a brief casting instruction where participants can try their hand at casting a fly rod.
Please contact Steve Frendt to register for this great event by emailing him at [email protected] or call 616.540.0742 for more details.