Four new board members joined the Schrems West Michigan TU board at our recent annual meeting, they are:
E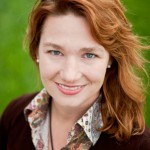 llie Frey
Eleonora "Ellie" Frey's work experience has been focused on the blurred boundaries between businesses with a socially-responsible mission and non-profits with an earned income stream. Currently, Ellie is the Director of the Family Business Alliance (FBA). The Family Business Alliance is an independent, membership-based non-profit organization with a mission to help family businesses of West Michigan succeed generation to generation. The FBA was founded over five years ago as a unique collaboration between the Grand Rapids Area Chamber of Commerce and Grand Valley State University's Seidman College of Business, and has grown to over eighty-five family business members.
Prior to the FBA, Ellie worked as a Commercial Realtor with a firm that specialized in re-inventing downtown warehouse and manufacturing buildings and was the first Executive Director of Local First West Michigan, a network of locally-owned, privately held businesses. Through many years of participating in her family's foundation, Ellie also has been deeply involved in working with the next generation of family philanthropy, and personally supports worthy causes domestically and internationally. Ellie earned her Bachelor's degree in international business and economics from Boston University and currently lives in Grand Rapids, MI.
Mark Gurney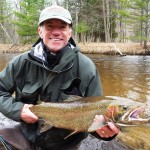 Mark Gurney back packed and fished in the Sierra Nevada Mountains as a child growing up in California.  He lived abroad for a number of years where he was introduced to fly fishing on the salmon rivers of Iceland. Mark now lives in Grand Rapids, MI with his wife, a local physician, where he leads an early–stage biotechnology company whose focus is the discovery of new treatments for depression.  He enjoys fly fishing on the Rogue River and Coldwater River.
Eric Johnson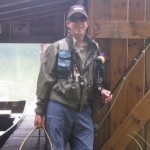 Eric Johnson grew up in Ann Arbor and was taught to fly fish by grandfather on the Little Manistee River.  In adulthood he became a fallen-away fisherman, spending many prodigal years owning a machining business and raising three wonderful daughters.  He has returned to the fold and as atonement for his waywardness has resolved to fish more and contribute time to Trout Unlimited.  Johnson has lived in Holland for thirty-five years with his wife, Barb.  He is a U of M graduate (Engineering) and a suffering football fan.
Pete Miller
Pete Miller grew up in Brighton, Michigan enjoying the outdoors and fishing from a young age. During my undergraduate studies at MSU I fished as much as I could and enjoyed exploring the Grand River, possibly one of the most underrated fisheries in the state. After starting my teaching career in west Michigan my interest in cold water conservation started to expand. I have been fishing west Michigan cold water streams since 1998 and still enjoy every day on the water and the diversity our rivers. I look forward to introducing others to the Schrems chapter and continuing the current conservation effort.
In addition to welcoming these new board members, we'd like to thank outgoing board members Jim Flamming, Robert Fox, Andy Milnes and Jim Scott for their years of service.