Cast-n-Blast 2023
July 12
@
2:00 pm
–
8:00 pm
When: 2:00 p.m. Wednesday, July 12, 2023
Where: Kent County Conservation League, 8461 Conservation Rd, Ada, MI 49301
---
As of July 6, ticket sales have finished. There is limited availability for walk-in dinner.
---
The Ruffed Grouse Society and Schrems West Michigan Trout Unlimited are once again co-sponsoring the annual Cast & Blast. This will be the 13th year for this annual event which is not only a "blast" but a fundraiser to support both organizations' youth educational programs.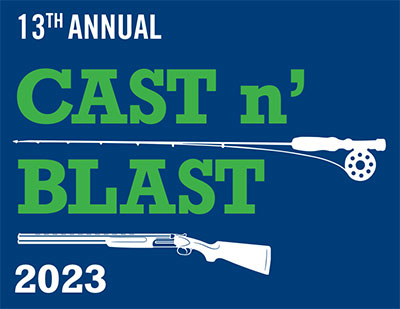 This fun-filled, no-pressure event includes a 50-shot round of sporting clays and a fun but challenging fly-casting course. Prizes will be awarded for the top shooter, fly caster, and overall high score. A prime rib dinner will follow a social/happy hour which includes complementary craft beer provided by a local brewery. A raffle will follow dinner that will include of a fly rod/reel combo, a half day fishing trip, a firearm, and many other cool items.
Novice shooters and casters are welcome! We will have expert instruction of the fundamentals of each sport. Everyone is welcome and you do not need to be a current member of either organization to attend.
Fly rods will be available for the casting competition but each shooter will be responsible for their own shotgun. Shotguns are also available for rent from KCCL at a nominal fee. Shotgun shells are NOT included. There is also a shortage of shotgun shells, so please bring your own shells if possible. You may be able to purchase shells at KCCL, but supplies may be limited. Warm-up rounds of skeet, trap or 5-stand are available from 2:00-3:00PM for an additional fee paid to Kent County Conservation League.
| PARTICIPANT | BEFORE 07/08/23 | AFTER 07/08/23 OR AT-THE-DOOR |
| --- | --- | --- |
| Dinner Only | $60/person | $60/person |
| Individual Participant | $125/person | $150/person |
| Team (5 Shooters) | $500/Team | $550/Team |
Registration: The shooting event is limited to 60 guns or 12 five-person teams. Please register online (preferred) using the form below. When registering, please be sure to include the individual participant and/or team captain's name as well as the names of the other four team members in the appropriate boxes.
While we encourage everyone to register using a credit card, registration can be made by filling out this form and mailing a check payable to Schrems West Michigan Trout Unlimited to Schrems West Michigan Trout Unlimited, PO Box 230094, Grand Rapids, MI 49523.
If you have questions, please contact Tom Mundt at [email protected] or by cell at 616-485-1426. Please sign up and participate in this fun event.
Schedule
2:00 – 3:00 p.m. > Registration
3:00 – 5:30 p.m. > Scored 50 Round Sporting Clays fun shoot & Scored 25 point Fly Casting
5:30 – 6:30 p.m. > Social Hour
6:30 p.m. > Steak Dinner – Raffles, Prizes & Fun!