Women on the Water 2020 – Pere Marquette River
July 10, 2020
–
July 12, 2020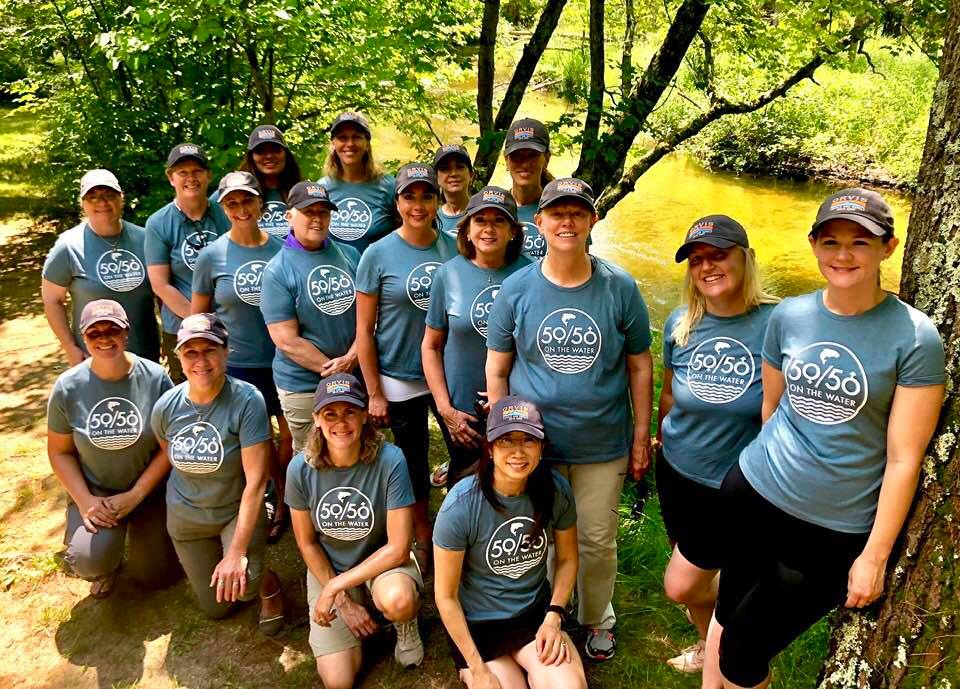 (May 15, 2020) Sorry all, due to issues surrounding COVID-19 this year's Women on the Water event is canceled. Marci Cisneros is currently contacting those who committed to the event to either issue a refund or put the money toward a very similar event in 2021. Next year's event will be July 9-11, 2021, and focus on hoppers and mouse fishing on the Pere Marquette River. More details will be coming soon.
Join us for the third annual Women on the Water weekend getaway!  Schrems West Michigan Trout Unlimited Chapter is proud to present a women's only weekend at the Pere Marquette River Lodge, an Orvis Endorsed Outfitter with a fully stocked fly shop. The PM Lodge is located along the banks of one of Michigan's most prized blue-ribbon trout streams – the Pere Marquette River.  Beginners welcome, intermediate and experienced fly fishing ladies will also find this trip fun and informative.  Support the TU Women's Initiative and register today!  (Group is limited to the first 20 registrants.)
This slideshow requires JavaScript.
Schedule
Friday, July 10
Check-in @ Pere Marquette River Lodge between 3-7pm
Social / Reception at 6pm
Special Update: Nicole Watson, Arctic Grayling Project / Rewild Michigan Nicole Watson, PhD Candidate from Michigan State University Fisheries and Wildlife Department will give an update about a subject she is very passionate about … bringing Arctic Grayling back to Michigan's cold-water streams. She will share her experiences with predatory and competitive interactions between young Grayling and resident Brook and Brown trout which may be one of the greatest hurdles to overcome for a successful reintroduction. Nicole's research examines predation by young Brook and Brown trout on newly hatched Grayling fry and competition between age-0 Grayling and Brook and Brown trout of the same year class. She also investigates early-life imprinting to home-waters of Arctic Grayling. The information learned through this research will provide guidance to the reintroduction program and aid in the selection of suitable streams based on fish community structure. Nicole will also give some insight to the group about proper fish handling for successful Catch and Release fishing.
Saturday, July 11
Coffee & Full Breakfast
Educational Session
Riverside Chat / Entomology
Casting Assistance
Lunch & Gear Prep
Meet Your Guide & Float Trip
Foam & Fur – Hoppers & Mousing (5pm-1am)
Dinner on the Water
Sunday, July 12
Coffee & Lite Breakfast
Check-out of Room
Casting Contest/Prizes
Gear & Clothing Review at noon

Details
RSVP by June 10
Questions? Contact Marci Cisneros, SWMTU Board Member, 
[email protected]
 or text/call
616.502.0544
. NOTE: If you have your own gear, plan on bringing it: rigged rod, waders/boots or wet wading shoes. If you don't have your own gear, let us know when you register.
Who's coming?
12 people are attending Women on the Water 2020 – Pere Marquette River