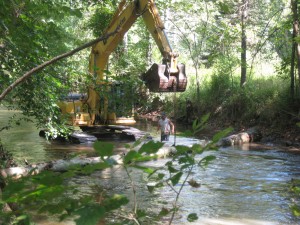 Pics and text by Stuart Decker
Chain saws running, the backhoe at work; the Dolan habitat project is moving forward!  Aaron Snell and Jackson Dirt Works are hard at it, installing log barbs in the Coldwater River.
The logs are placed in the river channel at an approximately 30 degree upstream angle.  They act as mini impoundments, creating habitat by altering the river bed topography from flat to rolling and by introducing variety in the velocity of the current.  Both of which make homesteads for trout in this rather straight stretch of the Coldwater River.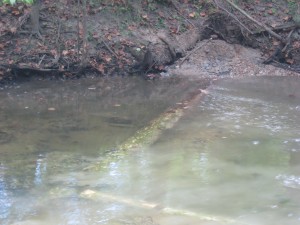 As was reported in an earlier update, we needed the approval of a multi-county Drain Commission board to approve of the work.  Their approval is as exciting as the actual habitat work.  Logs, made of wood, the usual bane of Drain Commissions, are being used to add habitat without compromising the "drainage" function of our trout fishery. It's a rather revolutionary idea; hats of to the Commissionaires for thinking outside the box.
In fulfilling their official mandate they have asked Schrems to conduct follow up assessments of the impact these drop structures will have.  Our intention and the terms of the grant mesh with their request.  We will conduct a five-year follow-up that will assessment the effects and impacts of our work.  Using a couple of simple items, rebar and chains (We will provide explicit details soon), we will be able to chart the effects. Schrems is convinced that the story they tell will pave a new path for management of river/drains in Michigan.
This is an exciting project.  Look forward to future installments.